How To Search on TikTok for Just About Anything
If you've never even wondered how to search on TikTok, that's fair: Depending on what the algorithm curates, you may be distracted by funny fails, dance routines, cute dog videos, and wacky mirror effects on your For You page.
But while it's fun to scroll for a while, it's pretty easy to get lost or overwhelmed. And what if you want to find that hysterical cat video you saw last week or expand your horizons beyond the algorithm's selection?
Whether you're on the platform to market your brand, see the latest videos from your favorite creator, or just impress your niece, you'll need to know how to search on TikTok.
Bonus: Get a free TikTok Growth Checklist from famous TikTok creator Tiffy Chen that shows you how to gain 1.6 million followers with only 3 studio lights and iMovie.
We get it. Falling down a TikTok rabbit hole is just too tempting sometimes.
But instead of scrolling mindlessly through the platform's recommendations, you might want to watch something specific like a cooking demo or the latest glow-up.
Here's how to search the platform for videos:
Tap the Search icon in the top right of your screen.
Type the name or type of video you're looking for into the search bar. This could be something like "dogs of TikTok."
Slide to the Videos tab to see the top-performing content related to your search.
Scroll through and tap on any of the TikToks you want to watch in full.
People often think (myself included!) that TikTok filters and effects are the same. But there's actually a big difference between filters and effects.
TikTok filters change the color balance of what you're filming. Effects add graphics, sounds, stickers, and games to your content.
Here's how to search for filters on TikTok:
Tap on the Create icon in the center of the bottom menu.
Upload your image or video and tap the Filters icon on the right-hand side.
Scroll through the filters on the lower screen until you find something you like.
You can always save or heart the video if you see a TikTok that uses an effect you like. But if you forget that, it can be hard to go back and find the effect.
The good news is if you remember anything about a TikTok effect, even a rough term like "bling" or "mirror reflection," you'll probably be able to find it using TikTok's search tool.
You can also use the Search tool to find effects you haven't seen before or play around with them in preview mode. That's often how you'll find the best TikTok effects for the kind of content you like to post.
Here's how to search for effects on TikTok:
Tap the Search icon and type a keyword into the search bar. If you remember the name of the effect — which appears on the lower left-hand side of TikToks that use the effect — that's extra helpful.
Can't remember the name? Type in the characteristics you can remember, like "clown" or "disco."
If there's an effect with that specific name, it will pop up first. It will then be followed by the top-performing TikToks that have those terms tagged so you can find what you're looking for.
Tap on the effect to see all the top-performing TikToks using that effect.
Pro tip: If you see a video with a cool effect, tap the effect's name to head to its homepage and see other videos that have used the effect.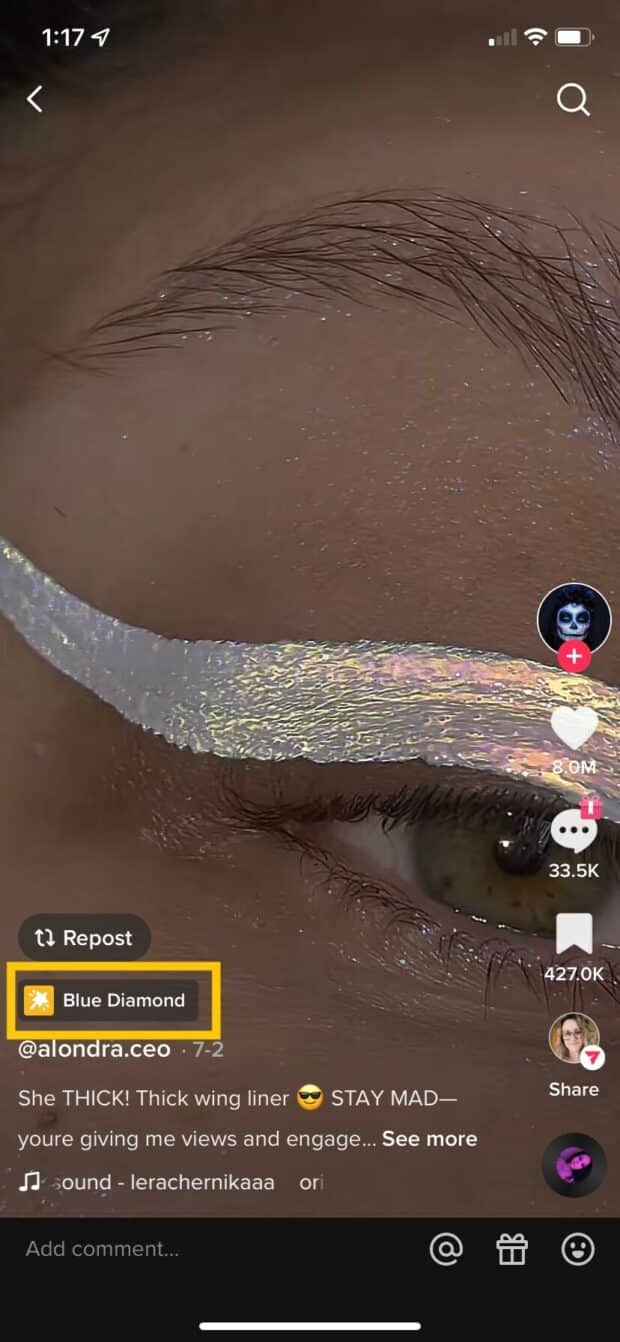 If you like it, you can save it for later by tapping Add to Favorites.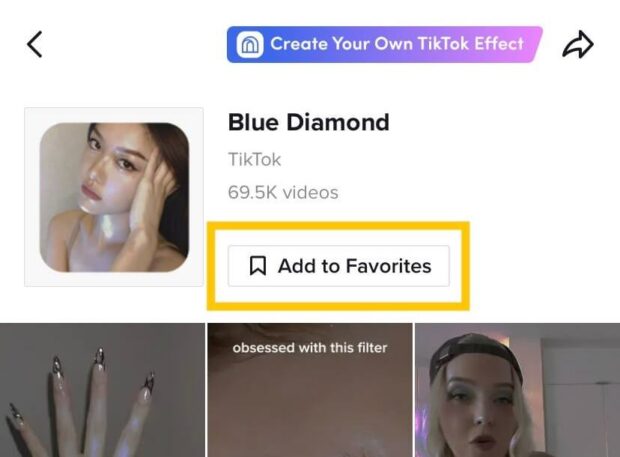 Bookmarking the effects you like when you see them will save you a ton of time.
88% of TikTokers say that audio is "essential" to their experience on the app. So knowing how to find and use trending sounds on TikTok can help elevate your videos and make them more engaging for your audience.
You can find the name of any sound on TikTok videos by looking at the lower left corner. You can then tap on it to see the top-performing content using that sound and add it to your favorites for later.
To find a particular sound, you can search for it.
Tap the Search icon and type in a keyword.
Tap the Sounds tab to see all the sound results that match your keyword.
You can play a preview of each of the sounds to help you find the one that matches what you're looking for.
Whether you're looking for a TikTok creator everyone's talking about or just want to find your friend's profile, you'll need to search for people at some point.
Here's how to search users on TikTok:
Tap on the Search icon at the top right corner of the Home screen.
Enter the name of a person in the top search bar. Suggestions will appear right below the search bar.
If none of the suggestions match the person you were looking for, you can type the person's name and tap on the search option to the right of the search box.
All the profiles with the same name will pop up. You can tap on the profile you were looking for or tap the Follow button to the right of the profile name.
If you want to connect with people you already know, there's an even easier way to find them. Here's how to search contacts on TikTok:
Go to your TikTok profile and tap the User icon at the top left corner of the screen.
On the Find friends page, there are three options listed above suggested accounts: Invite friends, Contacts, and Facebook friends.
Tap Contacts and allow access to your phone's contacts.
If any of your contacts have TikTok accounts, they'll pop up now. You can tap the Follow button next to their name to start following their content.
Like on other social media platforms, hashtags make content more discoverable. On TikTok, searching popular hashtags can help you find the latest challenge, dance routine or viral trend.
Here's how to search hashtags on TikTok:
Tap the Search icon in the top right of your screen.
Type in what you're looking for in the search bar and tap Search.
Tip: Be as specific as possible. For example, you could type the same of a creator, trending challenge, or other trending content like "rent free."
The most relevant results will appear in the Top tab.
Swipe to the Hashtags tab for all the trending hashtags that mention the searched keyword.
Tap on the hashtag you're looking for to see all the TikToks that include the hashtag you searched for. You can also add the hashtag to your favorites so you remember it later on.
While you can't interact or publish content on TikTok without an account, you can search the platform.
Let's say your Gen Z brother won't stop talking about the trending tortilla challenge, and now, he wants you to star in his latest video. Instead of saying yes right away, here's how you can search on TikTok without an account to see what you're letting yourself in for.
Search for TikTok and your keyword in your mobile browser.
Then scroll to the result that shows TikTok.
On the TikTok web page, you'll see all the top-performing content related to your search.
Note: The search experience on TikTok is very limited without an account. There's no option to search for content on the TikTok web page.
A TikTok duet allows you to share your video alongside another creator's content. Duets use a split-screen effect, so your video plays at the same time as the original video.
Duets are a fun way to interact and collaborate with other TikTok users. Before you post your next duet, search for some inspo on TikTok first.
Tap the Search icon in the top right of your screen.
Type in duet in the search bar and tap Search.
The top-performing content will appear under the Top tab.
You can also browse more duets on the Hashtags tab.
If you want to find duets with specific people, just search "duet with @[creator's username]".
Want to take a closer look at your growing TikTok fanbase? It's easy to see who exactly is following you on TikTok.
Head to your profile.
Tap on Followers, and a full list of your TikTok followers will pop up.
Just like on Instagram Stories, you can add GIFs to your TikToks. You search for them when you create your TikTok.
Tap the middle + icon on your screen to start creating your TikTok.
Upload or take an image or video to your TikTok as normal.
Then tap the Stickers icon.
In the search bar, type the name of the GIFs you're looking for. Scroll through the collection until you find one you like.
As a mobile-first app, TikTok on desktop has limited capabilities. But if you find yourself without your phone and are desperate to see your favorite creator's next TikTok, here's how to search for someone on TikTok from your computer.
Type TikTok into your desktop browser. Navigate onto the home screen.
In the top search bar, type in the person's name you're searching for.
Click on the search icon. A list of top content, accounts, and videos related to the person's name will appear.
Click on the search result you're looking for to see the person's profile. From your browser, you can only see a summary of the user's profile that includes their videos and link in bio. You can't see a list of their followers or who they're following on the desktop.
Grow your TikTok presence alongside your other social channels using Hootsuite. It's everything you need to do on social — schedule and publish posts for the best times, engage your audience, and measure performance — all from a single dashboard. Try it free today.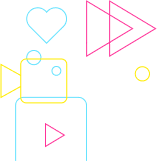 Want more TikTok views?
Schedule posts for the best times, view performance stats, and comment on videos in Hootsuite.
Thank you for visiting Training Forms, a site that provides useful information. I hope you get the results you're looking for in your search. This blog contains affiliate links to various products. It simply means that if you click on one of our links and then make a purchase, we will receive a little compensation. Thank you